Tracy's Togs
[[Image:|Tracy's Togs|270px]]
[[:Category:{{{Images}}}|Images]]
Tracy's Togs is a clothing store in downtown Bon Temps, Louisiana. It's owned and operated as a one-woman business by Tracy. She mainly sells dresses in the store.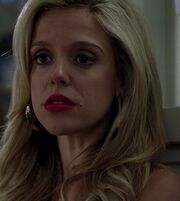 Jessica Hamby once tried on a few dresses in the store after Pam recommended it to her. The visit was interrupted when Claude Crane came in to pick up an order for dresses for his sisters and Jessica was immediately driven half mad by his exquisite fairy smell. Jessica left with one of Tracy's dresses without paying.
It's unknown what will happen to the store now that Tracy herself is presumed deceased.
In the Sookie Stackhouse novels, it was Tara Thornton who owned the store, and it was called Tara's Togs.
Ad blocker interference detected!
Wikia is a free-to-use site that makes money from advertising. We have a modified experience for viewers using ad blockers

Wikia is not accessible if you've made further modifications. Remove the custom ad blocker rule(s) and the page will load as expected.