"Trouble" is the fifth episode of Season 3 of the HBO original series True Blood, and the series' twenty-ninth episode overall.
Alcide and Sookie turn to an alpha-wolf "packmaster" for advice on dealing with Russell's minions; Tara considers a proposal from Franklin, who's completed his mission for Russell; Joe Lee breaks his promise to Sam and Tommy; Lafayette learns the meaning of patience from Jesus, his mother's orderly; Jason meets his match in the mysterious girl Crystal; an heirloom reminds Eric of his past and his ongoing thirst for vengeance.
"Will you be my vampire bride?"
― Franklin Mott
Sookie and Alcide Herveaux team up to combat the King of Mississippi and his werewolf army, after bearing witness to Debbie Pelt's hilarious — and horrifying — "engagement party" last week. Tara has her own trouble with the king, now that Franklin has brought her against her will to Russell's mansion. A flashback reminds Eric of the importance of his mission. Sam has new conflicts with his family, while Lafayette makes a new alliance with Jesus.
"She wants to be with me," Franklin announces to the assembled vamps, as Tara looks on bound at the wrists. "Hence the restraints," Talbot snarks. He's a little miffed that there are so many guests in the manor. "You're not supposed to bring work home," he says to Russell. "Darling... king," Russell replies. Bill enters, and Tara immediately asks Bill to help her, but he refuses.
So this week it became crystal clear that Franklin is deranged. "She's such a fucking disaster... we could be twins," he tells Russell. "The attraction is electric." So, oddly, he's actually in love. Tara is no dummy, though, so as soon as he leaves her alone, she chews through the stylish braids that bind her, and escapes. She's pursued by a wolf, who we soon discover is Cooter, who promptly returns her to captivity.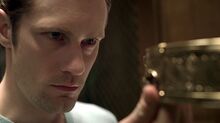 Tara realizes that she's dealing with a madman, so she decides her only option is to play along. This seems to be her best bet, until Franklin announces that he's taking her out to dinner — to celebrate her last night as a human. "Will you be my vampire bride?" Franklin asks.
Eric comes to Jackson, Mississippi to ask permission from the king to hunt Bill, who he says is wanted for dealing vampire blood. Talbot is noticeably sweet on Eric. Russell knows that Sophie-Anne Leclerq is behind the V-dealing, so Eric's plan to frame Bill is shot, and he comes clean. But Russell says he thinks there's a way that he can solve all their problems.
"Boys only," Talbot says to Lorena, who's lurking around, as he whisks Eric off to give him the tour of the manor. Among the spoils that Talbot shows off is a tribal Viking crown of some sort. Eric's eyes gaze upon it.
Eric recognizes it as being a Viking crown, which prompts a flashback to his youth. A typical argument is under way between Eric and his parents, who are Viking royalty. His parents want him to get married; Eric is a typical petulant son of privilege, who wants only to have sex with the redhead servant in the barn. That night, while he's doing just that, a pack of werewolves with the Operation Werewolf brand attack and kill his family. In silhouette, we see their leader, who is clearly Russell.
Eric's father's dying word is then revealed: 'Vengeance'
"Sookie is no longer mine," Bill says to Eric in front of Russell. He knows that Bill is lying, of course. Further, he knows that all the Stackhouse genealogy research Franklin found in Bill's study is for Sophie-Anne. Bill denies it, of course.
Coot comes to visit Bill, who Russell has under lock and key, and tells him that he has "sexy good news": Sookie, "his piece of country ass," is having sex with a werewolf. This obviously enrages Bill to the point where he's able to overpower both Coot and the guard and escape.
Jason shows up at the Bon Temps Police Station, ready to work. Andy puts him in charge of the phones, but he wants a uniform and a chance to see some action. But so far, none is forthcoming. Instead, he busies himself around the office with making giant paper clip chains and playing with the fingerprinting machine.
While washing one of the department's cruisers, Jason sees Crystal, the girl from the meth bust drive by. He hops into the cruiser, sweaty and shirtless, and pursues her. He tries to play it cool, but she isn't buying that he is actually a cop. He asks her to meet him at Merlotte's Bar and Grill that night, but she says no.
While Jason is waiting for her at Merlotte's, Andy shows up and says he's pulled some strings to make him a deputy, as long as he can pass a physical and a written exam. Jason is hesitant.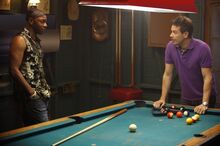 Crystal finally shows up, and Jason meets her in the parking lot. She tried to go in a few times, but she couldn't. And she can't explain. Jason convinces her to take a walk. Under the moonlight, they kiss. Jason surmises that she's happiest in the woods. She emphasizes that they only have now, even though Jason is ready to make it forever, rushing the romance a bit too fast.
Sam is helping the Mickens move into a new place; a rental home he leases out. It's also moving-in day at Arlene's house next door, where Terry is unloading his own boxes. Apparently, Sam owns both houses and suggests that Joe Lee be his handyman for his rental properties. He agrees.
Tommy, who's working at Merlotte's now, wants to stay with Sam for the night, for some "brother time," even enjoying watching nature shows together. Suddenly, a soused Joe Lee shows up, ranting and raving, something about how he owns Tommy from head to tail. It's weird, and clearly laden with meaning, but no explanation follows. Instead, Joe Lee backs off, apologizes, and leaves.
Lafayette is smoking cigars with Tommy outside Merlotte's when Jesus, his mother's nurse, stops by. Lafayette is uncharacteristically flummoxed, which is kind of fun to see. Lafayette says he has to work until 11:00pm, but Jesus decides to stick around. "It's only nine hours," he says. "I got nothing else to do."
Once Lafayette's shift is over, they rack 'em up and play pool. They spend the evening flirting.
Jessica is enjoying working at Merlotte's and practicing her new glamouring talent. Arlene, on the other hand, is still cranky about surrendering her "only redheaded waitress" distinction. When Hoyt shows up with a foolish but cute date named Summer, this makes Jessica a bit envious.
To entertain herself, she glamours the next customers, telling them not to tip their waitress.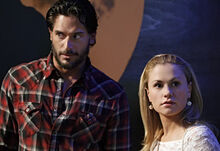 After witnessing all the craziness at Lou Pine's the night before, Sookie wants Alcide to take her to meet Russell. Alcide refuses, but their squabbling is interrupted by crazy Debbie, who has shown up to see Alcide. She says she's there to save his life. Sookie asks Debbie where Bill is, but she doesn't know, which Sookie learns when she reads her thoughts. Alcide explains that the pack-master is their Alpha; he makes all their decisions for them.
Sookie wants to meet him. The pack-master says there's nothing they can do, that Russell is ancient and has had Werewolves working for him for centuries. "Alcide," he says. "Obey."
Eventually, Bill shows up and tells her to leave Jackson, that she's in danger. He's right, because quickly, Coot and Russell show up with one person in their sights: Sookie. When Coot corners her, she shoots that blue orb of light we saw last season with Maryann at him and he's thrown across the room. "Fantastic!" Russell exclaims.
Accolades
Edit
Suzuki Ingerslev was nominated by the Art Directors Guild for Best Episode of a One Hour Single-Camera Television Series.
Suzuki Ingerslev, Cat Smith and Laura Richarz were nominated for the Emmy Award for Outstanding Art Direction for a Single-Camera Series.
Allusions
Edit
This episode does not contain any allusions.
Bloopers and Continuity Errors
Edit
Jason steals a Sheriff car and turns on all of the dashboard siren and light switches. When he gets out of the car, he does not turn off any of the switches. The lights keep flashing, but the siren is no longer heard.
Continuity
Edit
There are no continuity notes for this episode.
Flashbacks
Edit
Eric sees his father's Viking crown and recalls his family's murder at the hands of a pack of werewolves. He recalls a cloaked man in command of the werewolf pack.
Miscredits
Edit
There are no miscredits that occur in this episode.
"I Got More Bills Than I Can Pay" - Sonny Ellis
"Baby Let's Play House" - Arthur Gunter
"Smalltown Banjo Breakdown" - Thomas Richard Smith Sr.
"Devastation Road" - eBlues Highway
"Damned If I Do" - Jace Everett
"Little Moon" - Honneycombs
"Trouble" - Jackie DeShannon
Production
Edit
There are no production notes available for this episode.
There are no notes on the title based on this episode.
There is currently no trivia associated with this episode.
Memorable Quotes
Edit
Franklin Mott:
(to Tara when she tells him they need to talk) "Don't say that. Women say that, everything goes black and I wake up surrounded by body parts."
"Nobody cares what you think about anything."
Talbot Angelis: "It's not good to be all matchy-matchy. But you and your dusky little blood beast are totally at odds with my decor."
Memorable Dialogue
Edit
Russell Edgington: "The last time you had any real money you ended up at the slots in Biloxi slaughtering a church group of elderly women."
Franklin Mott: "They wouldn't let me have a turn!"
Trading Cards
Edit
Episode B1
Edit
Episode Ratings
Edit
Episode #
Episode Title
Viewers (in millions)
#3.05 (29)
"

Trouble

"
4.86