August 2009
Edit
Tru Blood on the CBS early show
Edit
Posted on August 24th, by TruBlood
CBS spotlights True Blood among the leaders of the vampire craze that has swept the nation. Along with the written piece is a video feature on the history of vampires in film & TV – once again, spotlighting True Blood. The video piece wraps up with the hosts of the "CBS Early Show" indulging in a taste of the actual Tru Blood product.
The article links here: http://www.cbsnews.com/stories/2009/08/24/earlyshow/leisure/main5262008.shtml?tag=contentBody;cbsCarousel and http://www.cbsnews.com/video/watch/?id=5261536n&tag=related;photovideo
---
The Buzz sinks its teeth in
Edit
Posted on August 11th, by TruBlood
HBO's The Buzz -- The Tru Blood beverage is unveiled by Alan Ball and everyone gets a taste at the after-hours release party. The cast and crew of True Blood received an overwhelming reception at Comic-Con, so a big thanks goes out to everyone!
---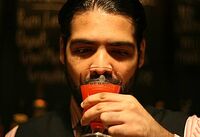 Mix it up
Edit
Posted on August 9th, by TruBlood
Our friends at Slashfood took Tru Blood down and around the block for a spin, and came back with a winner. Mix Tru Blood with absinthe, and voila, the Dutch Blood is born. It's also surprisingly good as a beer cocktail, if you're not into the heavy stuff.
---
A Body of Shots on Flickr
Edit
Posted on August 5th, by TruBlood
While we're cruising headlong toward September 10, there's a fine selection of shots on Flickr to check out. The shelves are waiting...
The article links here: http://www.flickr.com/photos/sookiebontemps/3759264119/
---
This Blood's for You
Edit
Posted on August 2nd, by TruBlood
The buzz keeps going: We've got some additional coverage for you from InStyle Magazine and TIME. TruBlood also happens to be in the print edition of Entertainment Weekly this week, so pick that up if you happen to be at your local newsstand.
The article links here: http://news.instyle.com/2009/07/30/tru-blood-beverage151blood-sucking-not-required/ and http://www.time.com/time/specials/packages/article/0,28804,1913612_1913610_1913566,00.html
Ad blocker interference detected!
Wikia is a free-to-use site that makes money from advertising. We have a modified experience for viewers using ad blockers

Wikia is not accessible if you've made further modifications. Remove the custom ad blocker rule(s) and the page will load as expected.