The official wiki of the HBO original series True Blood.
The official wiki of the HBO original series True Blood.

True Blood is a collaborative Wiki dedicated to the HBO series True Blood created by Alan Ball, based on Charlaine Harris's Southern Vampires Mysteries. Follow us on Facebook and Twitter! We don't bite...much.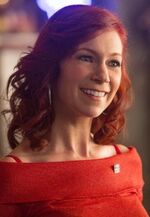 Arlene Fowler Bellefleur
Arlene Fowler Bellefleur is the current owner of Bellefleur's Bar and Grill, former home of Merlotte's, on the HBO original series True Blood. Played by American guest starring actress Carrie Preston, Arlene is friend to series' protagonist Sookie Stackhouse, has been married five times, and has three children, Coby, Lisa and Mikey. She played a recurring role through the series' first, second, third, fourth, fifth, sixth, and seventh seasons.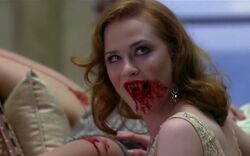 Vampires
Vampires are reanimated corpses that drink blood to survive and maintain their powers. They were originally humans converted into a vampire by a "maker". Being technically deceased, their primary characteristics include a lack of a heartbeat, body heat, brainwaves, electrical impulses, need to breathe, and other bodily functions. Due to the creation of synthetic blood (Tru Blood), vampires have revealed themselves to the global population.


Refresh
See more >
Loading RSS data...

Thank You—
"Thank You" is the tenth and final episode of the seventh and final season of the HBO original series True Blood, and the series' eightieth episode overall. The series finale, this episode marks the official end of the True Blood series. Sookie weighs a future with and without Bill. Eric and Pam embark on a new enterprise, while Sarah faces the consequences of her actions.

Did you agree with True Blood's send off?
Previous results:
Over 56% of voters said they feel Season 7 would not be a good send off for True Blood.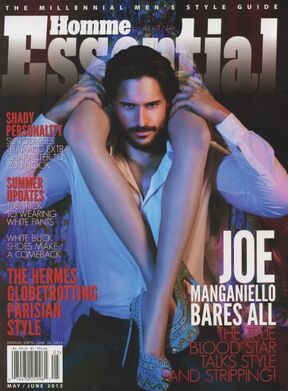 "If you die, I die." - Pam Swynford De Beaufort (to Eric)

Template:Featured Monthly Video



Create blog post
Refresh
I love all of you guys and have not forgotten about any of you! I check this wiki regularly and will resume the ABC swipe as soon as possible. I know I've been a little busy so rather than type a n…

Read more >




Note: I've been a little pressed here lately, so rather than posting a new blog post, I'm reposting the Happy Thanksgiving 2014 post. Don't let that take away from its perceived sincerity!


Happy Tha…


Read more >


Happy Father's Day to everyone here at the True Blood wiki! Hopefully you have a dad or fatherly figure you can wish a Happy Father's Day to, also.


Seeing Jason just became a dad last year, I wanted …


Read more >
See more >