True Death
Talk

0
1,090pages on
this wiki
The True Death

Caption:

Queen Sophie-Anne meets the True Death
The "True Death" is a term that refers to the ultimate destruction of an otherwise immortal being, such as a vampire or a Maenad.
In vampire politics, only certain vampires have the authority to command the True Death on other vampires. So far we have seen this power from the Magister, Nan Flanagan, and Roman Zimojic. The Chancellors of the Authority are allowed input into whether a vampire should receive the True Death or not, especially with regards to smaller kingdoms and states, however, should an enemy of The Authority be captured, only The Guardian appears to posses the ability to ultimately pronounce a sentence which would result in the True Death for the vampire.
Vampire monarchs also have a certain amount of persuasion over the matter, as seen in Season 4 when Bill Compton persuaded Nan to allow him to execute Eric. In cases involving less important Vampires however, it does not appear that the Monarch must receive any form of permission from the Authority. As seen in the case of the YouTube Vampire; whom Bill Compton was able to execute without even having to bring the case before the Authority.
Known Causes of the True Death
Sunlight/Ultraviolet Light - When exposed to sunlight vampires will begin to burn in a manner consistent with their age. Younger Vampires can endure prolonged exposure and still have a good chance to heal. They will however endure a significant amount of pain and their skin will get charred. Older Vampires are much more sensitive to sunlight, as seen with Godric who incinerated within a few seconds of exposure.
Fire - Vampires can heal from pretty serious burns, but if they are exposed for too long, they will eventually die.
Exsanguination - When a Vampire is drained completely of their blood.
Decapitation - Vampires are unable to heal if their head is completely severed, as seen with The Magister. ("Hitting the Ground")
Staking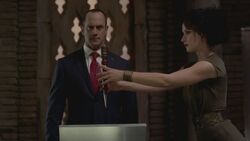 When a vampire's heart is completely penetrated with a type of wooden object (Wooden bullets & stakes, pencils, etc.) the vampire is completely destroyed, and meets the True Death. There are two ways in which vampires die when exposed to this method. If a vampire is struck quickly and directly through their heart (as with wooden bullets), they will explode on impact like a balloon, spraying blood everywhere. When a vampire is pierced through the heart in a slower method, usually by staking, they dissolve and "implode." The manner of how quickly the vampire dissolves after staking seems to be related to how slowly the stake is inserted into the heart. When a vampire is staked slowly, red cracks will appear on their skin and grow deeper while their eyes turn blue.
Staking appears to be the preferred method of execution for forms of Vampire Government, namely The Authority. A quick "ceremonial" type of performance is even used of presenting the ancient silver tipped wooden stake to The Guardian, which is used to carry out the execution.
Vampires & Maenad(s) who have met the True Death
Before season 1:
Season 1:
Season 2:
Season 3:
Season 4:
Season 5: