Happy Father's Day to everyone here at the True Blood wiki! Hopefully you have a dad or fatherly figure you can wish a Happy Father's Day to, also.
Seeing Jason just became a dad last year, I wanted to personally wish him a Happy Father's Day. Hey, Sookie and Jason's kids can grow up together!
There have been several fathers throughout the series, both human and vampire. And all of them, well, with the exception maybe being Corbett Stackhouse, were awesome fathers. Even Bill Compton and Andy Bellefleur grew into being a compassion, caring, and concerned fathers.
While fathers are usually under-appreciated, or at least not as appreciated as moms are, no one would be here without one.
One of the most touching videos about being a father is one that Bill Compton left on Jessica Hamby's computer. She saw it right after he passed away, and, proceeding the news about her wedding, she posted it as one of the very last blog articles on her website, BabyVamp-Jessica.com
Jessica's post:

A Father's Love
August 25, 2014
I found this video on my computer, that Bill left for me.
There really isn't anything I can say.
I've watched it about a dozen times and I'm still kind of speechless...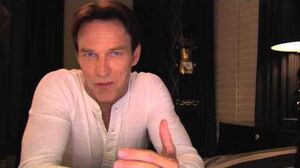 So make sure you wish your father a Happy Father's Day and make sure he knows you love him. Unless you don't. Which is messed up. In which case just lie and tell him you love him anyway.
Ad blocker interference detected!
Wikia is a free-to-use site that makes money from advertising. We have a modified experience for viewers using ad blockers

Wikia is not accessible if you've made further modifications. Remove the custom ad blocker rule(s) and the page will load as expected.