Happy Valentines Day to everyone here at the True Blood wiki! Hopefully you have someone in your life with whom the day was spent well.
While I usually write a long entry, I'll try to keep this one short.

The following Valentines Day recipe comes courtesy of the now defunct splendora.com, and was originally linked from TruBeverage.com:
Valentine's Day Cocktail We here at HQ are batty for the HBO series True Blood. Well, imagine our excitement when our very own case of Tru Blood arrived in the post! That moment could have only been made better if Alexander Skarsgard fed us the potion himself. Since that didn't happen we opted for the next best thing: to mix it with liquor. Here's a Valentine's cocktail we're calling the Splendora Tru Blood.
In a shaker with ice add:
1.5 oz Vodka (or 3 oz for extra bite)
1/2 bottle of Tru Blood
Splash of champagne
Stir well with a cocktail spoon (or the finger of your latest snack). Strain into a chalice of your choice and garnish with fig. Just remember to be in bed before the sun comes up!
---
Also from TruBeverage come the post:
A Tru Blood-y Valentine's Day Food and Drink Pairing
Ingredients
Blue Cheese Crusted Filet Mignon with a Rich Port Wine Reduction
2 Servings
2 Filet Mignon
1.5 teaspoons butter
2 cloves garlic, minced
1.5 teaspoons chopped fresh thyme
2 tablespoons bread crumbs
¾ cup beef broth
½ cup port wine
1 tablespoon vegetable oil
¾ cup crumbled blue cheese
Melt butter in a skillet and add garlic, thyme, and onion. Cook until onion is lightly browned. Stir on the beef broth and port wine. Bring to a boil and cook until mixture has reduced to half. Set aside. Preheat oven to 350 degrees. Heat oil in oven safe skillet over high heat. Sear steaks on both sides until browned and then place the entire skillet into the oven. Roast steaks for about 12 minutes for rare and 15 minutes for medium rare. Remove from oven and place on a baking sheet. Stir together bread crumbs and blue cheese. Top each steak with mixture. Preheat broiler. Please steaks under broiler until cheese and slightly brown and bubbling. This will be about 3-4 minutes. Re-heat Port sauce and drizzle over steak.
Bloodini Cocktail
1 oz Tru Blood
1 oz Peach Schnapps
1 tsp lemon juice
3 oz chilled, dry champagne
With Valentine's day fast approaching, wouldn't it be fangtastic to have a True Blood themed meal to cook for your sweetie? Below we have paired a deliciously bloody Filet Mignon with our special Valentine's cocktail; the Bloodini. Now THAT is something to sink your fangs into!
---
Also in the realm of Valentine's Day, Wikia's Lifestyle Hub] has a tournament going where users can vote on their favorite couples through time. Bill and Sookie are on the list but are unfortunately losing to Kermit and Miss Piggy. Well, actually they're in fourth place out of a list of four. It's very sad.
---
Need some more Valentine's info or ideas? Check out User_blog:QueenBuffy/Happy_Valetine's_Day_from_the_True_Blood_Wiki!
and
User_blog:Babyjabba/Happy_V-Day_from_True_Blood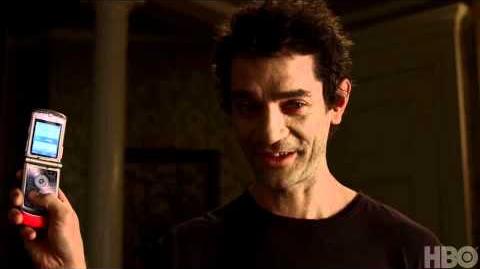 So who is your favorite True Blood couple?
Again, Happy Valentine's Day, and here's looking for many more to come!
Ad blocker interference detected!
Wikia is a free-to-use site that makes money from advertising. We have a modified experience for viewers using ad blockers

Wikia is not accessible if you've made further modifications. Remove the custom ad blocker rule(s) and the page will load as expected.