Thank you to everyone who submitted their True Blood menus!Check out the voting polls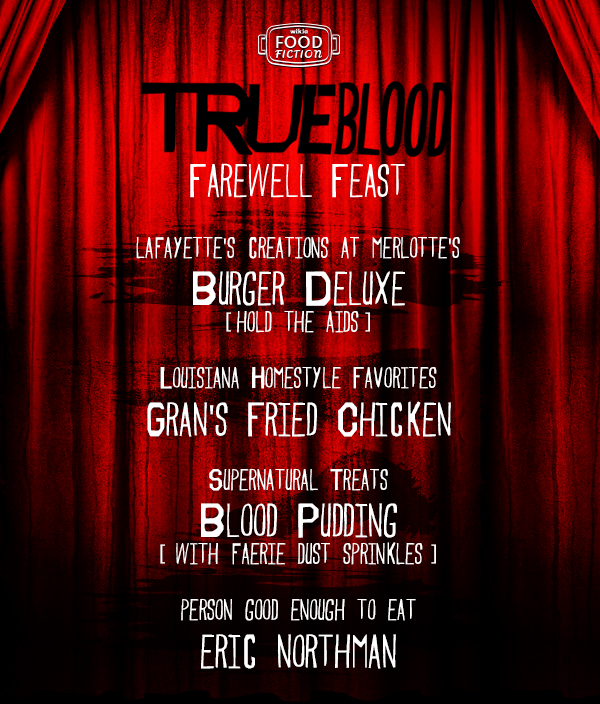 Contest
Hey there Trubies!

In honor of the FINAL season of True Blood, we want to create the ultimate farewell feast as a tribute to all of the past seasons. What would you want Lafayette to fry up for you? Or are you a fan of the supernatural goodies like Tru Blood and V ?
We want it all- so create your original menu and post it below!

Here's how it works:

1. You must be logged into your Wikia account. Don't have an account? No problem! Create an account here!

2. Create an original menu with one dish in each of the following categories:
Lafayette's Creations at Merlotte's
Louisiana Homestyle Favorites
Supernatural Treats
Person Good Enough to Eat (just for fun!)
3. Post your menu in the comments below. The more original the menu, the better!

Here's my example menu:
Lafayette's Creations at Merlotte's: Onion Rings
Louisiana Homestyle Favorites: Beignets
Supernatural Treats: Faerie Blood
Person Good Enough to Eat (just for fun!): Eric Northman
4. We will accept entries until June 23. Wikia staff members will select the most-nominated entries to be part of a poll for each category. We'll post the voting polls on Recipes Wikia for everyone to vote. Polls will close on June 30. We will post the winning menu that week!
Ad blocker interference detected!
Wikia is a free-to-use site that makes money from advertising. We have a modified experience for viewers using ad blockers

Wikia is not accessible if you've made further modifications. Remove the custom ad blocker rule(s) and the page will load as expected.