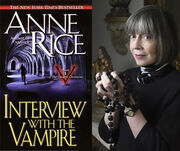 Did you know that Anne Rice, revered Vampire mistress that wrote Interview With The Vampire as well as countless other vamp novels, watches True Blood? She had a lot to say in a recent interview about Vampires, their symbolic meaning, and rival series Twilight...
"I always thought of the vampire as being a metaphor for the outsider in each of us, the criminal, the predator. I was writing about a mythical being that represented our own dark sides." She added, "Part of the mystery of being a human being is that mixture of the spiritual and the animalian. We have the capacity to murder, but also the capacity to love and respond and be tender to those in need."
"They're fantasy characters, and we have to keep reminding ourselves of this. They don't exist," she said. "I get e-mails from people who are outraged that I watch 'True Blood.' They say, 'How can you condone the evil of "True Blood."' I say, 'Are you kidding? Vampires aren't real. Keep that in mind.'"
"['Twilight']'s based on a really silly premise: that immortals would go to high school. It's a failure of imagination, but at the same time, that silly premise has provided Stephenie Meyer with huge success," Anne said. "The idea that if you are immortal you would go to high school instead of Katmandu or Paris or Venice, it's the vampire dumbed down for kids. But it's worked. It's successful. It makes kids really happy."
Ad blocker interference detected!
Wikia is a free-to-use site that makes money from advertising. We have a modified experience for viewers using ad blockers

Wikia is not accessible if you've made further modifications. Remove the custom ad blocker rule(s) and the page will load as expected.