Spoiler Alert!
---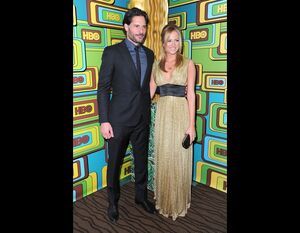 True Blood
cast members gathered for HBO's Golden Globes after party Sunday night and
Joe Manganiello
and
Todd Lowe
,
Terry Bellefleur
, let a few little spoilers drop... If this little tidbit is true....just Wow! If you don't want to know, this is your last warning. Enjoy cast pics instead:

Check out photos of the gorgeous cast here!

Joe revealed that if season 3 was the season of the werewolf then season 4 is the season of the witch. The first teaser for the new season also backs this up. But the real surprise came from Lowe, who revealed, "There's a new presence in Terry and Arlene's life." when asked if the new presence were a baby or a monster, Manganiello teased, "Both! Have you seen The Fly? It's like that."

...Could the baby growing in Arlene end up missing a few chromosomes? I have to say, I wasn't expecting them to take that approach! It'll be interesting to find out if that is a joke or if René's seed spawns a demon child!
Ad blocker interference detected!
Wikia is a free-to-use site that makes money from advertising. We have a modified experience for viewers using ad blockers

Wikia is not accessible if you've made further modifications. Remove the custom ad blocker rule(s) and the page will load as expected.