Our friends at True Blood's Nest have teamed up with AlexSkarsgard.net & Sam-Trammell.com to help support the relief effort in Japan! They have pledged to donate 100% of the proceeds from their "Blood Donor" t-shirts to the Red Cross for their Japanese disaster relief efforts!
So buy a T-shirt, its going to a great cause!
Buy one NOW!
---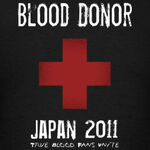 Want to do more?
Donate to Doctors without Borders here and help send highly trained teams of doctors into the hardest-hit and most difficult-to-reach regions of Japan!
Or donate to the Red Cross here and keep the relief effort going!
And join Twihards in their efforts to help tsunami and earthquake victims in Japan here!
Ad blocker interference detected!
Wikia is a free-to-use site that makes money from advertising. We have a modified experience for viewers using ad blockers

Wikia is not accessible if you've made further modifications. Remove the custom ad blocker rule(s) and the page will load as expected.