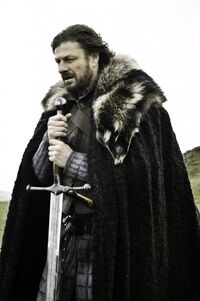 Are you going crazy waiting for the new season of
True Blood
? You should try
Game of Thrones
, HBO's new series. Thrones is based on George R. R. Martin's fantasy series Song of Ice and Fire and looks to be bloody good fun!
The show stars Sean Bean(that guy from Fellowship of the Ring), Peter Dinklage, Nikolaj Coster-Waldau, Lena Headey(Sarah Connor from the Terminator TV Series) and Jason Momoa. It is set to air April 17th which should get you in the mood for TB's return later in the summer! Check out the new trailer below!
Ad blocker interference detected!
Wikia is a free-to-use site that makes money from advertising. We have a modified experience for viewers using ad blockers

Wikia is not accessible if you've made further modifications. Remove the custom ad blocker rule(s) and the page will load as expected.