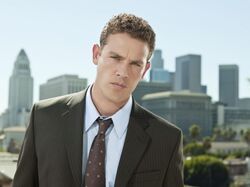 I'm so happy about this!
Kevin Alejandro
recently revealed that he choose to leave his other show, Southland, for his role on
True Blood
as
Jesus Velasquez
! Alejandro played Detective Nate Moretta, on Southland, but because of its uncertain future he was unable to commit to the cop drama.
"We did our thing on NBC and… went for six episodes and got picked up for six more, but it got canceled before they even aired it," he explained. "We were all in [the] dark on what was happening with Southland and, in between there, I was offered a role on True Blood."
"The [show's] schedules are very similar. And toward the end, I was two days on Southland, two days on True Blood and going back and forth between the two shows."
"I talked to [executive producers] Chris Chulack and John Wells, and they were very great about letting me out because [the show's future] was so uncertain," he said. "Shortly thereafter, TNT saved Southland, but we'd already decided that this was the road I was going to take."
And from what else we are hearing through the grapevine, Jesus will play a big party in the upcoming season of True Blood!
Ad blocker interference detected!
Wikia is a free-to-use site that makes money from advertising. We have a modified experience for viewers using ad blockers

Wikia is not accessible if you've made further modifications. Remove the custom ad blocker rule(s) and the page will load as expected.