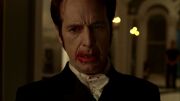 *spoiler alert*

Denis O'Hare, aka Russell Edgington, aka The King of Mississippi, best known for ripping a reporters spine out on live television on the hit HBO show True Blood, got down and dirty with TB fans at San Diego's Comic-Con convention this year.

"Comic-Con is a special kind of crazy," the actor joked. "I got surrounded by the cast of Star Trek: The Next Generation," he exclaimed. "First Deanna Troi [Marina Sirtis] walked up, then Data [Brent Spiner], then Worf [Michael Dorn]. I was just like 'Oh my God!'"
The King does have high hopes of returning for another season on True Blood even though *spoiler alert* he was encased in cement at the end of season three. "I love the show and really hope I'm back next year," he said. "It's a very good atmosphere."

400px|center|My Name Is Russell Edgington
Ad blocker interference detected!
Wikia is a free-to-use site that makes money from advertising. We have a modified experience for viewers using ad blockers

Wikia is not accessible if you've made further modifications. Remove the custom ad blocker rule(s) and the page will load as expected.