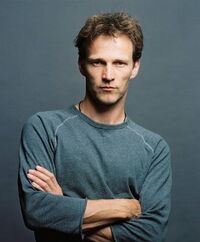 Stephen Moyer
, the charming
Bill Compton
, dropped a few hints about the upcoming season of
True Blood
and I am getting really excited!
"We've got a new presence. There will be a new kind of specter that represents darkness. We had the wonderful Denis O'Hare as the king of Mississippi last year and he's [gone] at the end of season three, so we've got something else coming in to replace that darkness, which is going to be really interesting, I think, this whole new sort of topic that we haven't covered."
Can't wait to see what he might be talking about! How about you?
Ad blocker interference detected!
Wikia is a free-to-use site that makes money from advertising. We have a modified experience for viewers using ad blockers

Wikia is not accessible if you've made further modifications. Remove the custom ad blocker rule(s) and the page will load as expected.