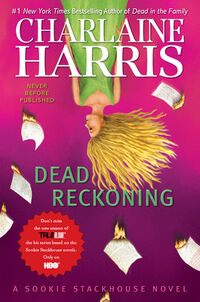 Can't wait to pick up the newest novel in the
Sookie Stackhouse
series,
Dead Reckoning
? Now you can read the entire third chapter!
Charlaine Harris
' full novel wont be released until May 3, but you can thank
Dead Reckoning
publisher, the Penguin Group, for giving die hard truebies a little taste. Read a short excerpt below or read the full chapter
here
!
---
I enjoyed driving to work for the evening shift when it was still light outside. I turned up the radio and sang "Crazy" right along with Gnarls Barkley. I could identify.
Jason passed me driving in the opposite direction, maybe on his way to his girlfriend's house. Michele Schubert was still hanging in the relationship. Since Jason was finally growing up, she might make something permanent with him . . . if she wanted to. Michele's strongest suit was that she wasn't enthralled by Jason's (apparently) powerful bedroom mojo. If she was mooning over him and jealous of his attention, she was keeping it perfectly concealed. My hat was off to her. I waved at my brother, and he smiled back. He looked happy and unconflicted. I envied that from the bottom of my heart. There were big plusses to the way Jason approached life.
---
Ad blocker interference detected!
Wikia is a free-to-use site that makes money from advertising. We have a modified experience for viewers using ad blockers

Wikia is not accessible if you've made further modifications. Remove the custom ad blocker rule(s) and the page will load as expected.