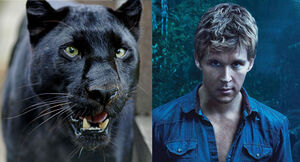 "True Blood" star Ryan Kwanten, the hilarious Jason Stackhouse, says he's the "go to guy" when a production calls for panthers! In the latest season of True Blood, Kwanten got up close and personal with a big feline when Jason's new girlfriend reveals that she is indeed a Werepanther. "You're definitely on your toes" when working with the big cats, he said.
His latest film, "Red Hill," also called for a panther until it turned on its handler. Instead, Ryan Kwanten acted while writer/director Patrick Hughes pretended to be the panther off camera. Kwanten joked that it was his "finest bit of acting to keep a straight face and try to stay in it while my director was licking his paws and carrying on." The film will be released this Friday, November 5.


Can't get enough Jason? Check out our list of The Best "Jason" Moments!
Ad blocker interference detected!
Wikia is a free-to-use site that makes money from advertising. We have a modified experience for viewers using ad blockers

Wikia is not accessible if you've made further modifications. Remove the custom ad blocker rule(s) and the page will load as expected.