Comment

1
SPOILER ALERT: Sookie a Vampire?
*Spoiler ALERT*
Don't read this if you don't want to know major Sookie Stackhouse plot spoilers!
---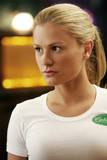 Everyone has wondered it... Will
Sookie
become a
vampire
? She does have 2 different
vamp
suitors! TV Guide thinks they have the answer...
Here's one thing you can be sure of: Fairies can't be turned into vampires. (Vampires just think their blood is mighty tasty and helpful for sun-bathing.) But executive producer Alan Ball reveals something else that fairies can do: "They can abduct humans and take them somewhere else that is not here," he says. "Just like aliens."
What do you think Alan Ball is teasing?! Discuss!