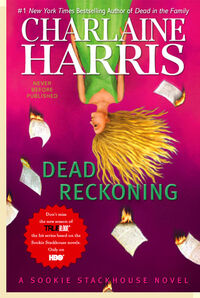 Sorry for the delay Truebies! But, if you haven't heard already,
Charlaine Harris
is planning to end the
Sookie Stackhouse
series after 2 more novels!
"Truthfully, the next two books will probably be the last two books in the series," Harris said last week. "I still love Sookie, but I'm beginning to want to write something else, and Sookie's kind of taken over my life. I was able to write other things for the first few years I was involved in Sookie, but then after the start of the television show she took over so much of my time because of my increased publicity obligations that it's been very hard to write other things, and I really need to do that."
Dead Reckoning, the 12th novel of the series is set to arrive at your local bookstore this May!
---

As for the fate of True Blood, its all up to HBO. But, Harris did mention that even though she's a regular viewer of the show, she sometimes is surprised by how graphic it can be, particularly when it comes to the amorous adventures of Sookie's brother Jason.
"Of course, the television shows things that I only allude to," Harris said. "I've had some moments where I have kind of covered my eyes a little bit. My gosh, there is a huge amount of skin. I guess I just don't see that when I'm writing so much. In the books, you know Jason's a horndog, you know that, but knowing it and seeing it are two different experiences."
"I think all the actors are very fun," she said. "I think Alan's genius lies in picking the right person for the right role. They're all talented and doing a great job. There are some plot lines that have surprised me, but I know that they know where they're going — I just don't know because it's not where I went. So I can only wait to see what's going to develop."
Ad blocker interference detected!
Wikia is a free-to-use site that makes money from advertising. We have a modified experience for viewers using ad blockers

Wikia is not accessible if you've made further modifications. Remove the custom ad blocker rule(s) and the page will load as expected.