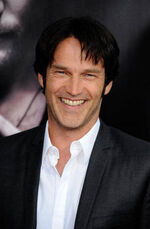 Stephen Moyer
talked with Marie Claire UK and revealed that he has some lofty aspirations!
"Jeff Bridges, Clint Eastwood and Tom Waits - grizzly old f***ers. I met Jeff Bridges at a movie convention. I said, 'Oh my God, I love you so much!' and he said, 'And I love you.' He can't have had a clue who I was." Moyer reflected on the chance encounter with the Oscar winning star of "Crazy Heart".
A great group of actors to aspire to be! I think Stephen Moyer's first step...facial hair! Check out the photographic evidence! What do you think Truebies? Would vampire Bill look hot with a beard or some scruffy sideburns?! I think I'm on to something!
Ad blocker interference detected!
Wikia is a free-to-use site that makes money from advertising. We have a modified experience for viewers using ad blockers

Wikia is not accessible if you've made further modifications. Remove the custom ad blocker rule(s) and the page will load as expected.