Team Bill Reign's Supreme!
The Battle of The Fang, a contest to raise money for charity, pitted rival TB vampires against each other! The competition raised a whopping $70,000! Surprisingly, True Blood's gentile vampire, Bill Compton, narrowly beat out sexy Nordic vamp, Eric Northman, by only $829. As the reigning vamp king, Stephen Moyer got to choose these amazing t-shirts himself!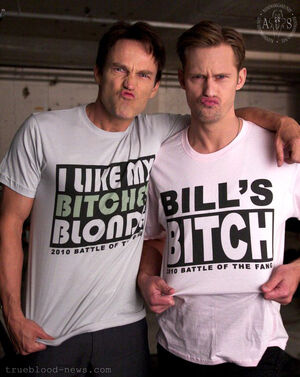 Ad blocker interference detected!
Wikia is a free-to-use site that makes money from advertising. We have a modified experience for viewers using ad blockers

Wikia is not accessible if you've made further modifications. Remove the custom ad blocker rule(s) and the page will load as expected.