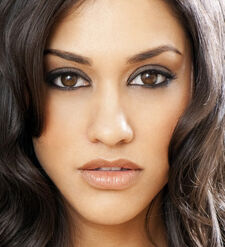 Meet
Bon Temps
' newest
shapeshifter
,
Janina Gavankar
! Gavankar will play
Luna
, a "super sexy public school teacher" who is not a vampire but a shapeshifter.
"She's very different than I am," Gavankar told Sapna Magazine. "Obviously I'm not a teacher, nor can I shapeshift!... I often play normal people with abnormal life skills and/ or challenges." But the obviously dazzling actress can't see herself as sexy. "Nope. I can look at other actors and say 'she's sexy' or 'he's sexy.' I think it's a lot harder for me to turn the mirror around. Many of my characters have been uber-confident, and therefore perceived as sexy. Looking back at some of them, like Ms. Dewey or Papi, I would say 'Hell yeah! Them girls were sexy!' But that's not me, that's them."
The Highlights
Sapna: Can you tell us anything about this season?
Janina: All I can say is, the show is going to continue to give you everything you love about it, and more.
Sapna: What is your character's wardrobe like? Janina: Well, there's not much to it at all. Shifters remove their clothes before they shift. Needless to say, I'll be in the gym over the holidays.
Sapna: Wowza! Can you tell us about your workout routine? Janina: I value being strong over being skinny. But my gym confession is: if I don't have a trainer, I'm probably not going to work out. I hate it. (Laughs) I'd much rather use my energy artistically. So I change my routine often because I get bored easily. I just started boxing this week, and let me tell you, right now it hurts to sneeze… at least I'm not bored. (Laughs)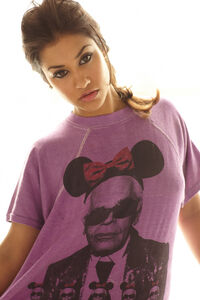 Sapna: How were you first introduced to vampire lore when you were a kid?
Janina: Count Chocula. Best cereal ever. (Laughs) Hm, I think the first vampire lore I'd really seen was "Dracula" with Keanu and Winona Ryder. I think I saw it in high school at a friend's house, and I didn't tell my mom. She would have never let me see things like that. I found it horrifying.
Sapna: Tell us what you love most about your role with True Blood. Janina: I'll be working with Sam Trammell a lot. I've marathoned the entire show and have fallen in love with his character. It'll be nice gazing into the eyes of Sam Merlotte.
Ad blocker interference detected!
Wikia is a free-to-use site that makes money from advertising. We have a modified experience for viewers using ad blockers

Wikia is not accessible if you've made further modifications. Remove the custom ad blocker rule(s) and the page will load as expected.