Comments

2
Vamp King of Mississippi says "Vampires Don't Sparkle!"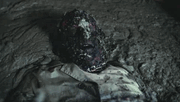 The coolest King in the south,
Denis O'Hare
, isn't into the
vampires
in Twilight!
"Real vampires don't sparkle, they don't glisten," Denis told HollywoodLife.com. "They can't go out in the day and they definitely aren't celibate! Come on!"
And I for one, totally agree! Just the idea that vampires sparkle....ugh! How about you? Do you think that Twilight Vamps and True Blood Vamps can co-exist? Or are the "vegetarians" in Twilight inferior creatures?