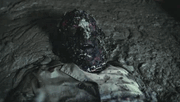 The coolest King in the south,
Denis O'Hare
, isn't into the
vampires
in Twilight!
"Real vampires don't sparkle, they don't glisten," Denis told HollywoodLife.com. "They can't go out in the day and they definitely aren't celibate! Come on!"
And I for one, totally agree! Just the idea that vampires sparkle....ugh! How about you? Do you think that Twilight Vamps and True Blood Vamps can co-exist? Or are the "vegetarians" in Twilight inferior creatures?
Ad blocker interference detected!
Wikia is a free-to-use site that makes money from advertising. We have a modified experience for viewers using ad blockers

Wikia is not accessible if you've made further modifications. Remove the custom ad blocker rule(s) and the page will load as expected.