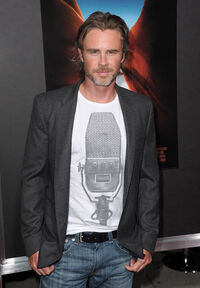 How much would you pay to visit the set of True Blood?
You and a friend could win a chance to visit the set and support a worthwhile charity! Series star, Sam Trammell, donated a chance to eat lunch on set with the cast and crew to benefit Children Mending Hearts... All you have to do is beat out the other bidders! The current price tag is $1,350.00... So if you have a lot of money to throw around and want to support a great charity, place your bid!
Make your bid now!
Terms: Taping occurs in Los Angeles. Must be scheduled for a mutually agreeable date and time. Subject to availability, restrictions may apply. Winner and guest must be over 18 years of age. Auction winner will be subject to the rules and regulations of the studio set. No meet and greets included and cannot guarantee your favorite actors will be present on the day of your visit. Airfare, transportation and accommodations not included. The minimum next bid is $1,350.00. The bidding increment is $250.00 for every new bid. The lot closes at 2:32 PM EST on Tuesday, January 11, 2011.
Ad blocker interference detected!
Wikia is a free-to-use site that makes money from advertising. We have a modified experience for viewers using ad blockers

Wikia is not accessible if you've made further modifications. Remove the custom ad blocker rule(s) and the page will load as expected.