Comments

9
Vote For The Sexiest Vampires Of All Time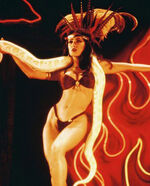 In honor of Halloween's fast approach, Glamour Magazine came up with a list of the "31 Sexiest Movie Vampires." 11 of the 31 vampires that made the cut were from the Twilight Saga?!
So in response to Glamour's list I decided to make my own. Be sure to vote for your favorite! Not on the list? No problem, just add them!
The Sexiest Vampires of All Time!
Check out Glamour's winners, HERE!