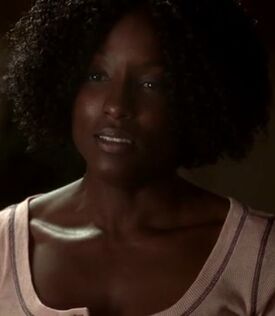 At the end of last season Tara Thornton gave herself a terrible hair cut and hit the highway. So what's next for the romantically challenged bombshell? No one really knows, but Rutina Wesley, who plays Ms. Thornton, has a few ideas!
"If [Tara] does come back, I would love to see her have some more power and strength and stability, and a love interest who's human and not crazy."
Considering her last boyfriend was a deranged vampire, it would be good for Tara to have a "normal boyfriend." But knowing True Blood, a show filled with shape-shifters, witches, and vampires, we don't really expect it!
Wesley continues "I don't know [if Tara is coming back]... maybe. They tell me nothing. I have no idea... No, I don't know, I don't know what's going on. They literally keep us guessing."
So it's anyone's guess if Tara will return to Bon Temps, Louisiana. We will have to wait and tune in next season...
Ad blocker interference detected!
Wikia is a free-to-use site that makes money from advertising. We have a modified experience for viewers using ad blockers

Wikia is not accessible if you've made further modifications. Remove the custom ad blocker rule(s) and the page will load as expected.