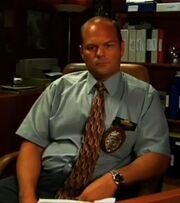 Chris Bauer, the ever entertaining Andy Bellefleur on True Blood, was recently interviewed about his role and why he is such a memorable character.
Bauer said that the best part of playing Andy Belleflour "is that, like it or not, for better or worse, there's something about this guy that I love. There's an essential kind of insecurity mixed with strength and moral fortitude that I'm interested in…that I identify with. I think the guy's funny. And in a lot of ways I think he's the portal the audience see's that world through. And that's a fun role to have."
"He's gotten more dynamic (through out the series). He's gotten more human. He has gone from, essentially, a plot function into a contradictory, complicated character. And that humanity is what I like to bring to a role. To me that's the difference between a character and an idea. But I would love to see him expand more. I would love to see that whole human dimension take up more space. But in the mean time I think they are continuing to write an interesting and compelling character that I'm very happy to play."

Need more Chris Bauer? Check out his Masters of Horror episode, "Sounds Like!" It features Bauer as an office drone whose hearing becomes so precise that it threatens to drive him insane.
"I'm very proud of that piece of work. Brad Anderson (The Machinist and Session 9) directed that and to me he's one of the greatest filmmakers out there." Bauer continues, "his aesthetic…if you look at "Sounds Like"…if you look at "The Machinist"…he understands psychological tension…psychological pain. And I was so grateful to Brad for giving me the opportunity to (play the lead role). I love the emotional repression that that guy was under and how it drove him crazy. I think that's very relatable and very human.
Ad blocker interference detected!
Wikia is a free-to-use site that makes money from advertising. We have a modified experience for viewers using ad blockers

Wikia is not accessible if you've made further modifications. Remove the custom ad blocker rule(s) and the page will load as expected.