Kevin Alejandro, Lafayette's sexy boy-toy Jesus Velasquez, recently opened up about the new season of True Blood. When asked if Jesus would be back for season 4, Alejandro replied,
"Absolutely! Jesus is definitely back. It's kind of a big season for myself, as well. I'm a witch and this is the season of the witches. I think it's called the Witches Reign. You'll see a lot of me. We pick up where we leave off with that true True Blood style. It's sexy, mysterious, and all kinds of fun."
"I'm really fortunate," he continues. "I'm having a great year. I have two really great, amazing shows that I'm part of, you know, Southland and True Blood. Fortunately, I get to do both of them, and not a lot of people get to do that."
I can't wait for more Jesus! Yum Yum!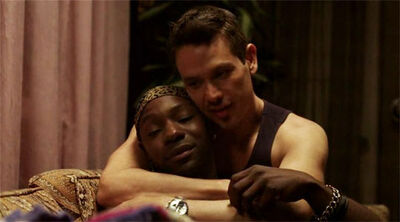 Ad blocker interference detected!
Wikia is a free-to-use site that makes money from advertising. We have a modified experience for viewers using ad blockers

Wikia is not accessible if you've made further modifications. Remove the custom ad blocker rule(s) and the page will load as expected.