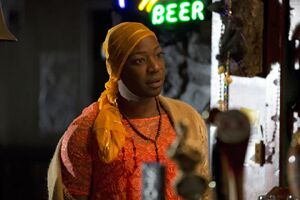 We were excited to hear that one of our favorite True Blood characters, Lafayette Reynolds, was getting a new boyfriend in Season 7, but we're very curious about who's going to get casted! According to TV Line, a casting notice went out looking for someone described as "a cross between Jim Morrison and James Dean." The notice goes on to say, "This brooding and insanely good-looking vamp is a compassionate protector with a poet's edge." True Blood is looking for an actor in his 20s who's comfortable with performing sex scenes with another man (Lafayette).
Ummm, yes?! While the casting is happening, how about fan casting our own Drake for Lafayette? Check out the top 10 list now to vote for your favorite or to add an actor you think would be perfect for the part!
---
---
Ad blocker interference detected!
Wikia is a free-to-use site that makes money from advertising. We have a modified experience for viewers using ad blockers

Wikia is not accessible if you've made further modifications. Remove the custom ad blocker rule(s) and the page will load as expected.