If you love Eric Northman, are you ready for a female version? TV Fanatic reports that Karolina Wydra will be on True Blood this summer as a vampire named Violet. Violet is supposedly "an especially strong and fearsome member of the undead, someone sources describe as "on par with the Eric Northmans and Bill Comptons of the world.""
Sounds interesting, right? How do you think this character is going to rock the world of our favorite people in Bon Temps, Louisiana? Sound off in the comments below!

UPDATE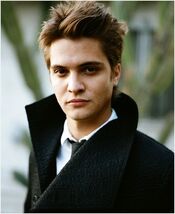 We just got another one! Luke Grimes will be joining everyone in Bon Temps as a new vampire named James who is supposed to be "a retro blood sucker who is intelligent, spiritual and unusually profound for a member of his species."
Source:
TV Fanatic
TV Fanatic
---
---
Ad blocker interference detected!
Wikia is a free-to-use site that makes money from advertising. We have a modified experience for viewers using ad blockers

Wikia is not accessible if you've made further modifications. Remove the custom ad blocker rule(s) and the page will load as expected.