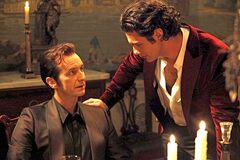 In an exclusive interview with The Insider, True Blood's finest, Denis O'Hare revealed some interesting tidbits about what Russell Edgington will be getting up to when season five airs next month.
According to O'Hare viewers should brace themselves for the softer, funnier side of the former Vampire King of Mississippi, as Russell will have a new boyfriend, hold a puppy, sing a 70s classic via karoake, and dance, though thankfully not at the same time.
O'Hare also revealed that Russell was freed from his cement bath by one particular individual, to whom he now owes his loyalty.
Fans of the spine-ripping Russell shouldn't fear, however, as O'Hare assures viewers that Russell will soon be more vicious than ever before! Oh, good!
See The Insider for the full interview, and don't forget to leave us your thoughts/comments below!
Ad blocker interference detected!
Wikia is a free-to-use site that makes money from advertising. We have a modified experience for viewers using ad blockers

Wikia is not accessible if you've made further modifications. Remove the custom ad blocker rule(s) and the page will load as expected.