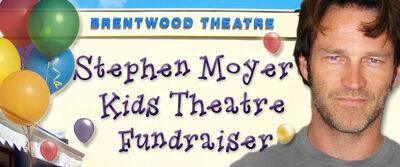 The Stephen Moyer Webring is participating in a fangtastic fundraiser to benefit The "Moyer Kids Theatre Fund," which raises funds for Brentwood Theatre. All donations made to the theatre by fans of Stephen Moyer will be collected in this fund and used for the production of a children's Christmas show and to provide low-cost transportation for the children.
For a minimum donation of $10, fans can buy and create a virtual brick with a personal message to Stephen Moyer in the 'Fans of Stephen Moyer Wall' that will have a permanent place on AllStephenMoyer.com. Several items signed by Stephen Moyer will be given as prizes to the fans who write the funniest, most original, most inspiring, most etc. message for the 'Fans of Stephen Moyer Wall.'
Anyone can win, no matter how much they donate, so hurry on over and help out their cause for a chance to win!
Ad blocker interference detected!
Wikia is a free-to-use site that makes money from advertising. We have a modified experience for viewers using ad blockers

Wikia is not accessible if you've made further modifications. Remove the custom ad blocker rule(s) and the page will load as expected.