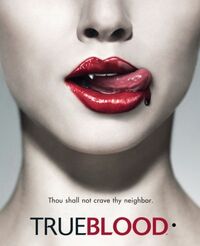 Truebies, True Blood is coming to the big screen! On June 1st, HBO is screening the Season two True Blood finale and an extensive special sneak peek into Season at theaters in 50 cities across the country!

The previews will be followed up by a live question and answer session with True Blood cast members and director Alan Ball. Information about the premieres can be found on the HBO web page. Tickets will be free and available through promotions and contests.

"True Blood has some of the most passionate fans of any show on television and we are excited to have an opportunity to reward those viewers on a national level," said Zach Enterlin, Vice President of Advertising & Promotions, HBO. "These fan experiences will allow thousands of our most dedicated viewers to gather together to watch True Blood and give them a chance to discuss the show they love with some of its most popular stars."
Before June 1st, Truebies will be able to submit questions through True Blood's official Facebook and Twitter pages at www.facebook.com/trueblood and www.twitter.com/truebloodhbo. If you can't make it to the local screenings, don't worry- the Q&A will also be streamed live on HBO.com and the True Blood Facebook page.
Ad blocker interference detected!
Wikia is a free-to-use site that makes money from advertising. We have a modified experience for viewers using ad blockers

Wikia is not accessible if you've made further modifications. Remove the custom ad blocker rule(s) and the page will load as expected.