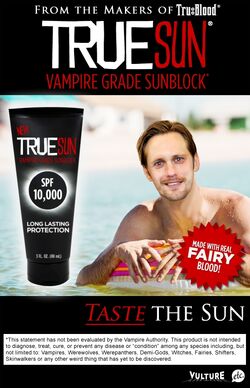 Would you wear a True Blood themed sunblock? Or do the vampires need sunblock with extra SPF (10,000 to be exact) to avoid frying in the sun? Perhaps they wouldn't need to chain themselves with silver if only they had "True Sun," by the makers of Tru Blood!
This hilarious ad for a True Blood-themed sunscreen by NY Mag features Eric Northman lounging happily by the pool in the sun and boasts "real fairy blood" as proof of the world's first ever sunblock for vampires.
Unfortunately, the sunscreen looks to still be in development stages and not yet approved by The Authority. Looks like the vampires will have to wait a little longer to walk in the sun...
What do you think Truebies? Awesome or not?
Be sure to join us for a live chat party for the finale this Sunday!
Ad blocker interference detected!
Wikia is a free-to-use site that makes money from advertising. We have a modified experience for viewers using ad blockers

Wikia is not accessible if you've made further modifications. Remove the custom ad blocker rule(s) and the page will load as expected.