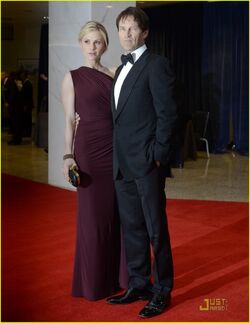 Sookie and Bill's real-life counterparts, Anna Paquin and Stephen Moyer tied the knot last year, making Sookie/Bill shippers everywhere sigh and triumphantly declare the victory of shipping war. While you may not be able to definitively count Eric or Alcide out in True Blood, Anna and Stephen are on fire in real life!
Recently, they've been seen looking sizzling and happy at the White House Correspondents's Dinner and effortlessly made Zimbio's 100 Hottest Couples List! They came in at #76, which sparks the question, just how many hot Hollywood couples are there?
Check out the full list at Zimbio and tell us if you agree with their decision!
Kate.moon 19:27, May 3, 2011 (UTC)
Ad blocker interference detected!
Wikia is a free-to-use site that makes money from advertising. We have a modified experience for viewers using ad blockers

Wikia is not accessible if you've made further modifications. Remove the custom ad blocker rule(s) and the page will load as expected.