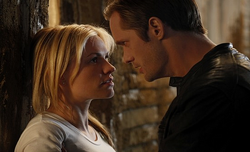 If you haven't seen this already, it's a pretty nifty idea! Inside True Blood Blog is taking a total of 5 questions for Alan Ball regarding the upcoming season! It started on April 14th, and so far, we have one question that's been answered: How will the witches look?
Here's what we found out:
Ben Hayes, the writers' assistant, explained that the look of the witches is inspired by the characters in the fourth book by Charlaine Harris, but that in bringing Marnie to life, they have tried to create a character that seems real, but slightly "off." The witches in Season 4 all follow that approach and are a range of personalities and looks.
Ben also shared that "as far as the magic goes, there was a good deal of discussion in how to depict it in a visual medium. The writers wanted the magic to suit the stories and nature of the show, but also to meet the needs and opportunities of production. Several different traditions were researched and discussed in order to come up with a unique take on witches, witchcraft and magic in the world of 'True Blood.'"
That's a lot to process! So far True Blood has taken well-known supernatural beings such as vampires and werewolves to put their own twist on the mythology. No doubt they'll do the same for witches.
As a fun bonus, there are also 4 questions Alan Ball refuses to answer!
1. Where is Sookie?
2. Where is Tara?
3. Do Sookie and Bill reconcile?
4. Do Sookie and Eric get together?
They are definitely some of the most pressing questions Trubies are dying to know! Guess we'll have to wait until July to find out! Do you have any questions for Alan Ball?
Kate.moon 20:48, April 28, 2011 (UTC)
Ad blocker interference detected!
Wikia is a free-to-use site that makes money from advertising. We have a modified experience for viewers using ad blockers

Wikia is not accessible if you've made further modifications. Remove the custom ad blocker rule(s) and the page will load as expected.