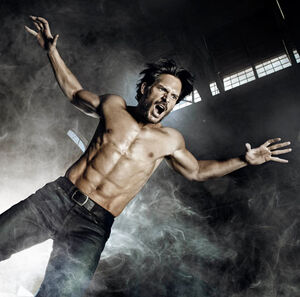 There has been so much buzz about Sookie and Eric becoming closer, but we can't forget big, warm Alcide!
Recently, E Online revealed that Alcide was moving closer to Sookie this season, opening up a whole realm of possibilities for the hot were-human couple. The hunky actor Joe Manganiello himself confirmed that there is definitely something between Sookie and his character! Not only will there be a romance blooming, but the two hotties will pick up right where they left off from Season 3!!
Ausiello just revealed that we won't actually see Alcide until the third episode (BOOO!) but when we do, there will be major surprises: "He's (sic) doesn't actually show up until Episode 3 (airing July 10), when Sookie drops by his new suburban crib to ask a favor of him. She quickly discovers that his change of address is but one of two major surprises the big lug has in store for her."
I can't wait to find out what the surprise is! Sounds like good werewolf fun! Watch this clip to listen to Alcide's interview!
Ad blocker interference detected!
Wikia is a free-to-use site that makes money from advertising. We have a modified experience for viewers using ad blockers

Wikia is not accessible if you've made further modifications. Remove the custom ad blocker rule(s) and the page will load as expected.