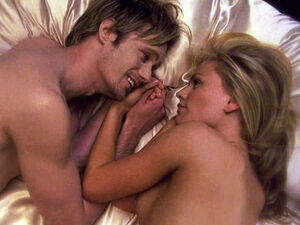 Anna Paquin, the female protagonist of True Blood is on Team Eric! Despite being married to Stephen Moyer and having an on-screen relationship with his vampire counterpart Bill, Mrs. Moyer is all for Sookie and Eric!
Team Eric
What should we expect from Season 4 in terms of the amnesia that Eric faces and potential shower scene that features so prominently in the books?! The actors and the author weighs in! It's confirmed that the pesky witch coven causes Eric to lose his memory...and basically changes him from the calculating vamp to a confused person:
"The Eric you thought you knew is gone and it changes the dynamic between Eric and Sookie as well," Skarsgard says. He has to rely on Sookie to "navigate the world," according to True Blood News. On the plus side? "The attraction to Sookie is still there," Skarsgard teases.
Team Bill
It sounds like we're going to see a whole new side to Bill Compton! Despite his everlasting love for ladylove Sookie, Bill...just might enjoy life and bachelorhood! That would explain the new woman we saw in some of the trailers. Stephen Moyer maintains that Bill loves Sookie so much that he's willing to let her go...even if it means that she needs to be with Eric for a while. That's true love!
So where are we, Trubies? Team Eric or Team Bill!
Ad blocker interference detected!
Wikia is a free-to-use site that makes money from advertising. We have a modified experience for viewers using ad blockers

Wikia is not accessible if you've made further modifications. Remove the custom ad blocker rule(s) and the page will load as expected.