Ad blocker interference detected!
Wikia is a free-to-use site that makes money from advertising. We have a modified experience for viewers using ad blockers

Wikia is not accessible if you've made further modifications. Remove the custom ad blocker rule(s) and the page will load as expected.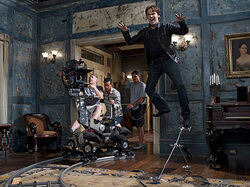 How amazing would it be to mingle with the cast of True Blood? I know that I would just about faint being in close proximity to Alexander Skarsgård or Joe Manganiello! Although that wouldn't be conducive to being...an extra on True Blood!
Yes, you have the chance to be an extra on the set! While you do have to pay for this particular pleasure, it's for a good cause. Alan Ball and Peter Macdissi and auctioning extra roles on charitybuzz.com and proceeds will benefit Serenity Park Sanctuary!
You must be over 18 to get the role AND you may bring a guest to the set! You can read more about how to enter here: http://www.charitybuzz.com/catalog_items/2571035
Kate.moon 18:07, April 19, 2011 (UTC)