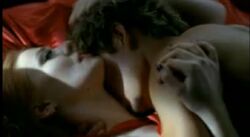 OMG OMG OMG! I can't believe that True Blood Season 4 is over after a year's wait! This crazy roller-coaster finale certain gave us a lot to mull over until Season 5! If you didn't get a chance to join us for our Truebie Finale Party at True Blood Wiki, not to worry, you can react to and the discuss the finale right here!
We already knew that a series regular would die but Jesus's death was swift and merciless all the same. "Maryette" was certainly taking no prisoners...well except the two vampires Eric and Bill whom she tried to roast before Sookie, Tara, and Holly managed to rescue them.
Although it was lovely to see Adele Stackhouse again, the witch storyline seemed to end rather abruptly...if anything, last week's battle at Moon Goddess Emporium was far more exciting and well executed. As one of my favorite characters, Lafayette survived the ordeal relatively unscathed physically, but with the demon inside of him and Jesus dead...I wonder if we'll be seeing a darker side to the normally happy character next season. RIP Jesus.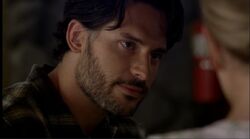 Let's discuss Bill-Sookie-Eric for a second. Sookie, what on earth is the matter with you!? That girl cannot make up her mind! First she wants Bill, then Eric, then both, then neither? While this may have been intended as a cliffhanger to entice us into next season (and let's not forget that beautiful Alcide declared his love for her), anyone who can make Eric look so hurt should be voted off the island. Let's hope that Eric apologizes to Pam for his hurtful behavior!
One of the my favorite development of the season has definitely been babyvamp Jessica's budding relationship with Jason. From her incredibly hot Little Red Riding Hood Halloween costume to her incredibly hot sex with Jason, it couldn't have been much better. Even their comical little talk showed real chemistry and a promise of something more to come. I can't wait to see more of them together and the evolution of Jess in Season 5!
After tying up a lot of the loose ends, And When I Die's last 10 minutes kicked into high gear! Steve Newlin is a...vampire?!?! Russell Edgington escaped his cement prison!?!? Nan Flanagan got fired and is leading a mutiny against The Authority!?!? Bill and Eric slaughters her AND the gay stormtroopers!?!? Before you can catch your breath, Tara jumps in front of Sookie to save her from crazy psycho-bitch Debbie! And...credits!
We can't wait to hear what you thought about the finale! Vote for your favorite scene and quotes from And When I Die! Some of the best lines ever on True Blood were definitely uttered on True Blood!
Poll
What was your favorite scene in And When I Die?
Ad blocker interference detected!
Wikia is a free-to-use site that makes money from advertising. We have a modified experience for viewers using ad blockers

Wikia is not accessible if you've made further modifications. Remove the custom ad blocker rule(s) and the page will load as expected.