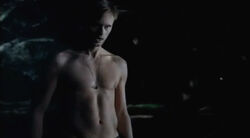 Well Truebies! If You Love Me, Why Am I Dyin'? revealed a whole slew of interesting information about Marnie Stonebrook, Bill's new authority as the Vampire King, and the dubious story behind werepanthers. While I was looking forward to seeing Alcide again, it wasn't quite the homecoming I expected, especially with docile Debbie Pelt back in the picture!
The best part of it all!? Eric Northman as a shy, adorable vampire who seemed more like a bumbling teenager with a crush! It was pure comedic gold to watch Eric acting embarrassed about his fangs, his protectiveness of Sookie, and his trying to control his vampire urges like teenage hormones. Ah amazing...I'm in love with this new Eric, even if he was just as appealing as the brooding sexy powerful vamp.
And what of Bill? He's definitely having sex with every attractive female in town and settling in well into his throne. What do we think about this power reversal? Vote for the best of the best scenes from tonight's episode below, and be sure to check out some of our favorite quotes!
Poll
What was your favorite scene from If You Love Me, Why Am I Dyin'?
Ad blocker interference detected!
Wikia is a free-to-use site that makes money from advertising. We have a modified experience for viewers using ad blockers

Wikia is not accessible if you've made further modifications. Remove the custom ad blocker rule(s) and the page will load as expected.