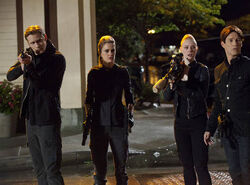 Hey Truebies! Welcome to the penultimate "Best of the Best" for Season 4! I'm a little late to the game but wanted to give everyone a chance to sound off on Soul of Fire before the finale this Sunday!
We learned that it's actually really hard to kill off characters on True Blood, vampire or not, and that fairies are just about the most useless supernatural beings ever!
I knew that the episode would be epic after last week's amazing ending where Eric, Pam, Bill, and Jessica got ready for battle. Of course their game face was interrupted when Jason told them that their beloved Sookie was trapped inside Moon Goddess Emporium.
Aside from the amazing action in Soul of Fire, we also got to see some awesome Maker/Progeny interaction. Eric and Bill volunteering to sacrifice themselves for Sookie was sweet; their progenies's parallel reactions were equally touching. But honestly, the older vamps were neither wiser nor thinking clearly in this episode. While Pam might have been a bit rash, she and Jessica were the only sane ones in the episode!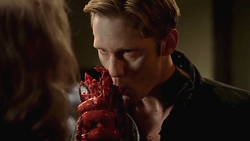 Despite the lack of Eric-Sookie-Bill scenes, I was seriously loving the Bill/Eric dynamic. Watching the two unconditionally team up to save/sacrifice themselves for Sookie was HOT! And when the weird sun-fence came down you KNEW it was ON! As an avid hater of Roy, I was extremely excited to watch Eric suck his heart like a delicious Jamba Juice. Like it or not, Bill and Eric are vampires, and it is nice to see them unleash their brutal natures once in a while...for a good cause.
Elsewhere, I was pleased to see the were/shifter plotline resolve itself nicely. Somehow all the important werewolves and shifters ended up at Alcide's house where an epic Sam/Marcus smackdown went down. Being the tiny man he is, Marcus was easily defeated by Sam. Although Debbie IS a seriously crazy psycho, I still felt bad for her when she was "abjured" by Alcide. But honestly Debbie, how do you expect Alcide to take you seriously when you're wearing tiny underwear and swearing fidelity?
The craziest part of the night was neither the were-shifter fight or the vampire-witch conflict...it was actually a fairy-human coupling. SERIOUSLY FAIRIES!? Andy Bellefleur?? Are they lacking in taste or are they just desperate to harvest more humans? And now Andy can't get out of anything because he fairy pinky-swore with the faux-hot fairy...creepy much?
There's only 4 days left until Season 4 finale! Starting tomorrow, we'll be doing our own countdown by voting on your favorite scene, quotes, moments, characters, etc of the season so be sure to check back at True Blood Wiki!
We'll also be hosting a True Blood live chat party for the finale! Watch the finale live and chat on the True Blood Wiki with other fangtastic Truebies!
And vote for your favorite scene and quotes right now!
Poll
What was your favorite scene from Soul of Fire?
Ad blocker interference detected!
Wikia is a free-to-use site that makes money from advertising. We have a modified experience for viewers using ad blockers

Wikia is not accessible if you've made further modifications. Remove the custom ad blocker rule(s) and the page will load as expected.