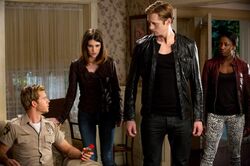 Spoiler Alert For those who watched Save Yourself, you may have witnessed Jason Stackhouse hallucinating his snarky parents and rejecting poor Jessica Hamby, who declared her love to Jason.
Watch this clip below and speculate away: What does Nora know about Warlow?! And is Jason hallucinating or are his parents a trick?
Ad blocker interference detected!
Wikia is a free-to-use site that makes money from advertising. We have a modified experience for viewers using ad blockers

Wikia is not accessible if you've made further modifications. Remove the custom ad blocker rule(s) and the page will load as expected.