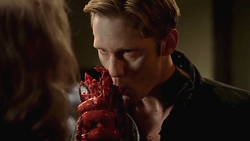 There's only 4 days until Season 4 finale airs, Truebies! After a crazy True Blood summer, there's a LOT to mull over before Season 4 goes out with a bang!
We're holding a Live Chat Finale Party to send True Blood off in style but before we do, we'll be doing a countdown to the finale installments.
We'll have a poll to vote for your favorite scenes, favorite new character, favorite quotes, and more! If you have any suggestions for a poll or top ten list, be sure to share them with us in the comments!
Let's start with the BEST SCENE from Season 4! If you can't remember them all be sure to check out the individual recaps of the episodes here!
Best of the Best
Poll
What was your favorite scene from Season 4?
Obviously, I'm missing a few scenes, so take to the comments to tell us your personal favorites!
Ad blocker interference detected!
Wikia is a free-to-use site that makes money from advertising. We have a modified experience for viewers using ad blockers

Wikia is not accessible if you've made further modifications. Remove the custom ad blocker rule(s) and the page will load as expected.