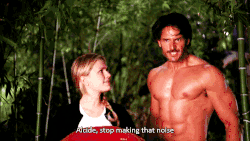 In addition to casting Marcus Bozeman's mother, Annie, True Blood is adding bigger and badder wolves to the mix.
Meet Rikki and Louis Hertham, both of whom will clash badly with Alcide. Rikki, played by Kelly Overton, "is a revenge-filled wolf who demands to know what became of Marcus. She is booked for six episodes." Louis will portray a "Marine-type" of wolf who will clash with Alcide. Correction: He is said to be J. D. Herveaux, Alcide's father! He is booked for five episodes.
It doesn't look good for Alcide in Season 5. What do you think about the upcoming wolf-packed season?
Source
Ad blocker interference detected!
Wikia is a free-to-use site that makes money from advertising. We have a modified experience for viewers using ad blockers

Wikia is not accessible if you've made further modifications. Remove the custom ad blocker rule(s) and the page will load as expected.