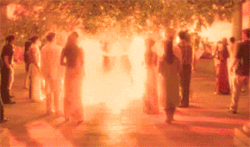 Are fairies True Blood's version of aliens? While they first appeared to be ethereal, nymph-like creatures in the beginning, we got a taste of their dark side in She's Not There. If anything, they seemed like powerful, malicious goblins. In this True Blood Mythology video (what a great idea!), Alan Ball explains his vision of what fairies are in True Blood!
According to True Blood News:
They have the ability to fully channel nature
Fairies have dabbled in human development
They are similar to extra-terrestrials
They come from somewhere else
They like to abduct people
Do they sound like aliens or what?! Does that mean they've interfered with human evolution and performed experiments on us? We know they want to "harvest" humans...What do you think about this new development Truebies? I sure hope we see more of them!
Video