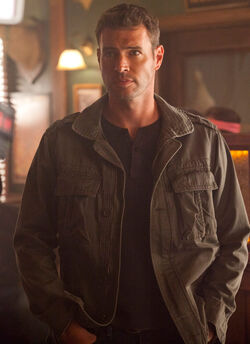 Terry and Arlene had a major presence in Let's Get Out of Here and when True Blood's Season 4 finale comes around, Terry will get a major storyline!
Cue Patrick, Terry's former platoon leader when they served in Iraq. Portrayed by Scott Foley of Felicity, the two military pals will have some juicy plot points.
Get your first look at Patrick from TV Line! Are you excited for Terry's story to come front and center or would you prefer more vampires all the time?
Ad blocker interference detected!
Wikia is a free-to-use site that makes money from advertising. We have a modified experience for viewers using ad blockers

Wikia is not accessible if you've made further modifications. Remove the custom ad blocker rule(s) and the page will load as expected.