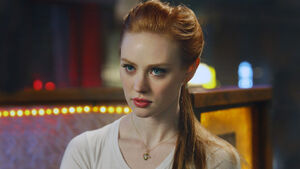 Ah you never forget the rush of your first true (vampire) love...so says little bro Tommy. Speaking about his role in Season 4, Tommy discusses his brief crush on gorgeous babyvamp Jessica at E Online: "There's just something about the first vampire that you get the hots for. [Tommy] still has a big crush on Jessica. But how that plays out...I don't know, but Tommy will forever—that's his first crush. She's hot. Superhot vampire. He could meet a new hot person, but there's just something about that first vampire that you get the hots for."
We couldn't agree more, violent-shapeshifting-little-bro! We don't know how anyone couldn't be in love with Jessica! What do you think about Tommy's crush alert? Are you excited to see him and Sam spar in Season 4? Vote for YOUR first vampire crush!
Poll
Who is your first vampire love?

Kate.moon 22:40, June 7, 2011 (UTC)
Ad blocker interference detected!
Wikia is a free-to-use site that makes money from advertising. We have a modified experience for viewers using ad blockers

Wikia is not accessible if you've made further modifications. Remove the custom ad blocker rule(s) and the page will load as expected.