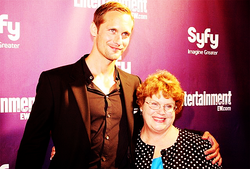 If you're a fan of True Blood books as well as the series, you know that Charlaine Harris's newest book, Dead Reckoning, recently came out. The author's doing a book reading and tour around the country so maybe you'll be lucky enough to catch her in your city!
She was recently in New York, Boston, Chicago, and St. Paul. Starting tomorrow, she'll be in Seattle and hit a different city every day! Talk about hard working. Check out the calendar and see if you'll be able to catch Ms. Harris talk about Sookie, Bill and your favorites characters!
SEATTLE - TACOMA, WA

Saturday, May 7, 7:00 PM – UNIVERSITY BOOKSTORE, 4326 University Way NE, Seattle, WA 98105, 800-335-7323

PORTLAND, OR

Monday, May 9, 7:00 PM – POWELL'S PRESENTS, The Bagdad Theater & Pub, 3702 SE Hawthorne Blvd, Portland, OR 97214-5146, 503-228-4651

SAN DIEGO, CA

Tuesday, May 10, 5:00 PM – MYSTERIOUS GALAXY, 7051 Clairemont Mesa Blvd, Ste 302, San Diego, CA 92111, 858-268-4747

DENVER, CO

Wednesday, May 11, 7:00 PM – TATTERED COVER BOOK STORE, 1628 16th St, Denver, CO 80202, 303-322-1965

KANSAS CITY, MO

Thursday, May 12, 7:00 PM – BARNES & NOBLE, 4751 West 117th Street, Leawood, KS 66211, 913-491-4535

HOUSTON, TX

Friday, May 13, 12:00 PM – MBTB AUTHOR LUNCHEON SERIES, The Briar Club, 2603 Timmons Lane, Houston, TX 77027, 713-524-8597 or 1-(888)- AGATHA – This event is ticketed and limited to 200 people, the ticket includes the purchase of a book.
Friday, May 13, 6:30 PM – MURDER BY THE BOOK, 2342 Bissonnet St, Houston, TX 77005, 713-524-8597 or 1-(888)- AGATHA

KNOXVILLE, TN

Saturday, May 14 – WJXB-FM AUTHOR SERIES, Knoxville, TN, 865-656-2975 – Exact location to come. B&N will be handling booksales

INDIANAPOLIS, IN

Sunday, May 15, 3:00 PM – BARNES & NOBLE, 14709 US Hwy 31 North, Carmel, IN 46032, 317-844-2501

DETROIT, MI

Monday, May 16, 7:30 PM – NICOLA'S BOOKS, The Michigan Theater, 603 East Liberty Street, Ann Arbor, MI 98104, 734-662-0600
Kate.moon 20:54, May 6, 2011 (UTC)
Ad blocker interference detected!
Wikia is a free-to-use site that makes money from advertising. We have a modified experience for viewers using ad blockers

Wikia is not accessible if you've made further modifications. Remove the custom ad blocker rule(s) and the page will load as expected.