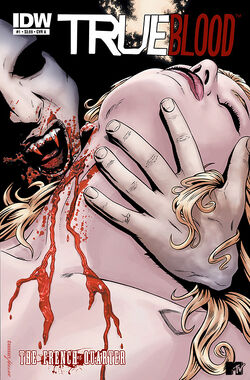 With the success of Southern Vampire Mysteries and of course True Blood, the True Blood graphics are the next wave of media to hit the shelves. IDW Publishing will be releasing a sequel to All Together Now in August, titled "True Blood: The French Quarter."
It's a six-issue series starring Eric and Sookie as they make their way to Louisiana's famous French Quarter to catch a killer that Eric and Godric supposedly finished off centuries ago. Sounds mysterious! Pam and Lafayette will also have a part in the graphic novel while Bill deals with a hepatitis outbreak!
Will you be picking up the comics? Let us know Trubies!
Source

Kate.moon 19:44, May 20, 2011 (UTC)
Ad blocker interference detected!
Wikia is a free-to-use site that makes money from advertising. We have a modified experience for viewers using ad blockers

Wikia is not accessible if you've made further modifications. Remove the custom ad blocker rule(s) and the page will load as expected.